June 26th, 2012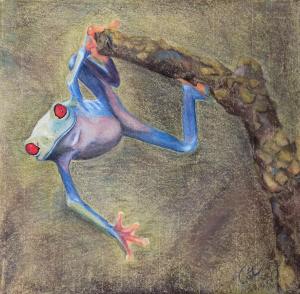 Whenever the weather is particularly nasty outside, such as today, I always feel a mix of excitement and hesitation. Because in recent months, whenever the weather was rainy, cold or gloomy, I've been using that as an excuse/opportunity to do something creative inside. Most of the time that means work on a drawing or painting, or sometimes create a jewelry piece.
But the challenge is always there. To create something that speaks to me. Something that does the subject justice; something I am at least satisfied with that I did a good job on. Because we are always our own worst critics, am I right? But it must always be also something that challenges me, technically.
So today I spent some time contemplating what my next artwork should be of. I am tempted to do another tree frog, but now that I am on Fripp Island, a sea island off the South Carolina coast, I do feel I should be doing something that reflects my current environment. So perhaps local wildlife would be more appropriate, or try my hand at a landscape or seascape even. Now that would be a challenge, wouldn't it be....?

PS: The above pastel drawing, 'Hanging Out', was done about 3 weeks ago; the last time we had a rainy day here on Fripp. I found creating believable tree bark a challenge, and the shading on the tree frog's legs. I always do the eyes last, as a little treat to myself, and also to ensure that I don't accidentally smudge them!